PC plastic
Polycarbonate (PC) is an amorphous clear plastic suitable for industrial engineering. This versatile thermoplastic polymer is easy to process and has many applications within different branches. PC plastic is mainly used for medical devices and parts, but can also be used as a stronger substitute for glass.
Polycarbonate is not UV or scratch-resistant as standard. However, there are versions which are UV-resistant and have an extra scratch-resistant layer. An ESD-safe coating is also available on a PC, which avoids the risk of electrostatic discharge.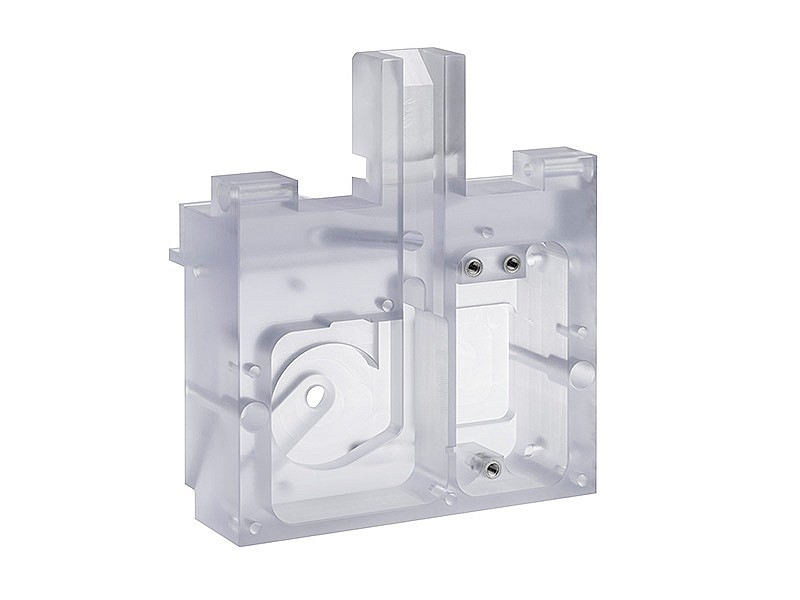 Polycarbonate (PC) properties
Characteristics of PC plastic are its high impact resistance and light transmittance. In addition, this technical plastic is resistant to high temperatures and easy to reshape. The properties of polycarbonate are:
Highly impact resistant – at least 250 times stronger than glass
Light transmittance
Easy to shape
Suitable for intensive use
Resistant to high temperatures
Bendable
Easy to process
Option of applying UV and scratch-resistant layer
Option of ESD-safe coating
Polycarbonate (PC) plastic applications
Polycarbonate is the perfect kind of plastic for processes like gluing, shaping and welding. You could even say that working with polycarbonate is a piece of cake for our plastics specialists. PC plastic is especially suitable for intensive usage or when there are high quality or safety standards. BKB Precision has a lot of experience in the realisation of PC plastic applications, including:
Components for MRI scans
Assembly of doors and protective covers for medical and food industries
Other kinds of machine components
Prototypes
BKB Precision has many years of experience in polycarbonate processing for precision parts. Our plastics specialists are without peer in their expertise and skill in accurately shaping, gluing and welding PC plastic.
Our high tech machine park makes it possible to have polycarbonate prototypes made on request. Our aim is to relieve every customer of their concerns through our knowledge of technical plastics.
Questions about polycarbonate (PC)?
Do you want to know if polycarbonate is suitable for your project? Or do you have any other questions regarding polycarbonate processing? Then please feel free to contact us through our contact form or by telephone. Our PC plastic specialists would be more than happy to make time to inform you of the specific properties of polycarbonate and more.