Our quality standards
BKB Precision produces high-quality products in the quality-oriented high-tech sector. Quality is therefore part of our DNA.
We strive to meet customer needs by providing ongoing support to our employees and by developing processes and systems. In this way, we guarantee the timely, targeted delivery of high-quality plastic components made to precise specifications.
The BKB Precision quality policy is also evident in the daily work of our employees. There is an open atmosphere where everyone can give and receive feedback, which we believe contributes to the continuous improvement needed to find the best ways of serving our customers. This atmosphere also enables us to achieve our own strategic and operational goals.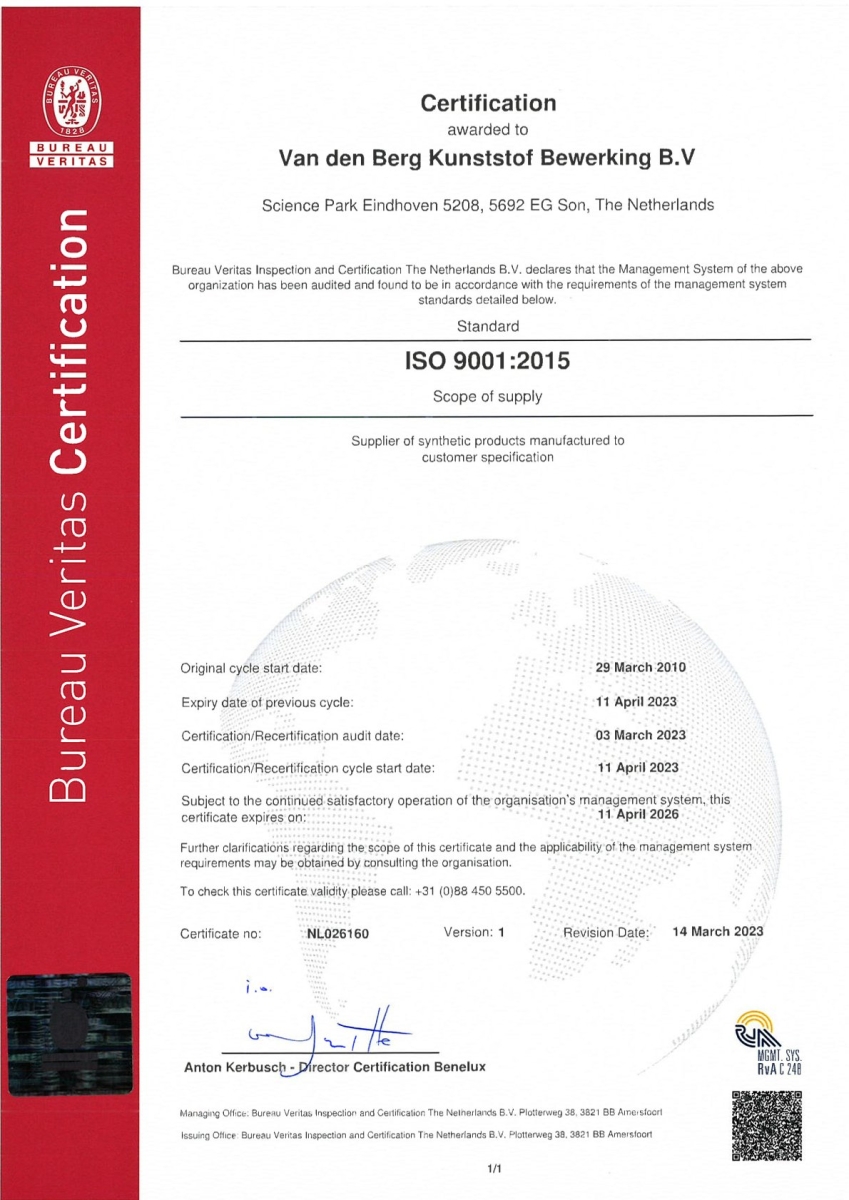 ISO 9001:2015
At BKB Precision, quality is the starting point which applies to all employees, systems, processes, machines, documentation and communication. We know the quality standards we have to achieve and are ISO 9001-2015 certified. Up to now, we have passed all our re-certifications and customer audits with flying colours and we are very proud of that.
We work according to established procedures and protocols throughout the entire process, from application to dispatch. We carry out several measurement checks during production to make sure we are achieving the high quality you expect of us.
(Certificate ISO 9001:2015 Van den Berg Kunststof Bewerking B.V. (since 2015 working under the company name BKB Precision)
Optimalisation
We make every effort to fulfil relevant customer requirements and expectations, in addition to the industry standards. BKB Precision supports, encourages and inspires employees to adopt a quality-conscious attitude. To achieve this, the management organises training programmes, as well as the means to implement the quality policy.
As a link in the chain, we are also committed to meeting the increasingly strict requirements with regard to reliability and sustainability. We can supply the following on request: Certificate of Conformity (COC), First Article Inspection Report, measurement reports, and material certificates.
Certified quality system
Taking our core values as the foundation, we have drawn up a quality management system. This means we can implement quality management in a structured manner, controlling, safeguarding and improving the quality of our daily work. The result is that we can manufacture and supply high-quality products to demanding customer segments, including the semiconductor industry, medical industry, defence, and aerospace.
The work on creating optimal business operations is never done. We therefore actively look for new ways to improve our work on a continual basis. Clients who appreciate our efforts with quality certificates include ASML (Quality Certificate), Philips (Quality Award) and PAL-V (Certified Supplier).
Reports and certificates
The market is making increasing demands on product sustainability and reliability. We are happy to cooperate with this. Therefore, we can provide you with the following reports and certificates on request:
COC (Certificate of Conformity)
EC 1935:10/2011 (material certificate)
FAIR (First Article Inspection Report)
Measurement reports
Material certificates
RoHS (Restriction of Hazardous Substances)
REACH (Registration, Evaluation & Authorisation of Chemicals)
Would you like to receive more information about the possibilities? 
Feel free to make an appointment with the contact form or call us at +31 (0)40 267 01 01.