Portal milling machines
Portal milling is ideal for the precise machining of large surfaces or for when different kinds of parts have to be obtained from one sheet of plastic. A portal milling machine has a vacuum bed on which a plastic sheet is secured. The spindle is attached to a portal construction, so it can move back and forth over the bed or product. This form of plastic processing is also known as vacuum milling.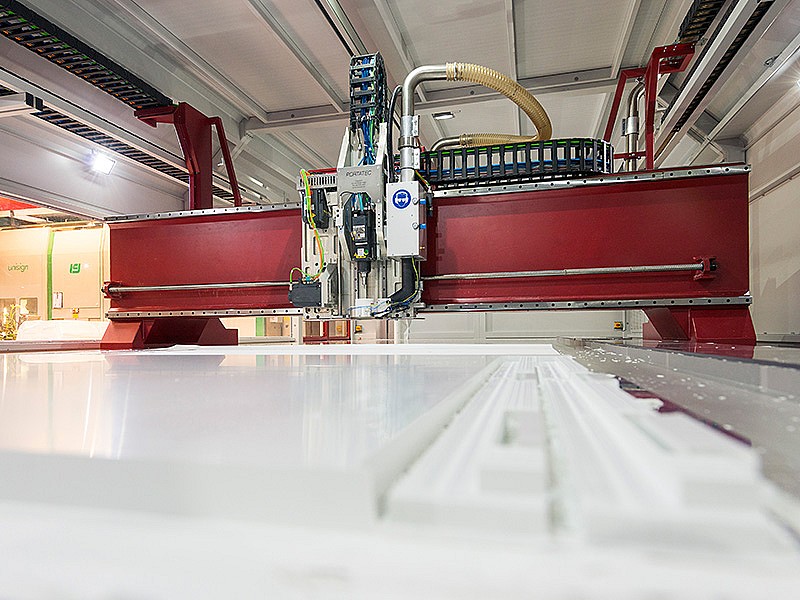 Portal milling: a summary
The plastic sheet is secured by means of a vacuum: the vacuum bed has small holes through which air can be sucked. In addition, this vacuum can be selectively located by having the air sucked through different groups of holes. Our latest machine is so advanced that it can determine which areas need vacuum securing during milling so that the plastic is kept absolutely flat.
An additional benefit to this method is that all the parts that are milled out stay fixed to the bed. We often use a special foil between the vacuum bed and the plastic so that the plastic can be completely milled through. This makes it possible to manufacture very small products without needing a second operation.
The portal milling machines have a minimal cooling system through which we apply as little liquid as we can as efficiently as possible. This improves machining conditions and results in shorter production times, better surface quality of the plastic, and less residue during portal milling. In addition, this technique is sustainable and efficient.
Our portal mililng machines
The portal milling machines we use fall into a special outlying category of CNC machine, which were often designed for the aircraft industry. These machines are very accurate and equipped with a high-speed spindle. They can accurately mill over a length of more than 6,000 mm to 0.03 mm.
We have the following portal milling machines:
One Portatec vacuum bed machine of 6,000mm x 2,500mm and a working height of 80mm. This portal milling machine was specially designed and built for BKB Precision.
One Wissner High Performance Portal Mill. This machine measures 6,250mm x 2,200mm and has a processing height of 80mm.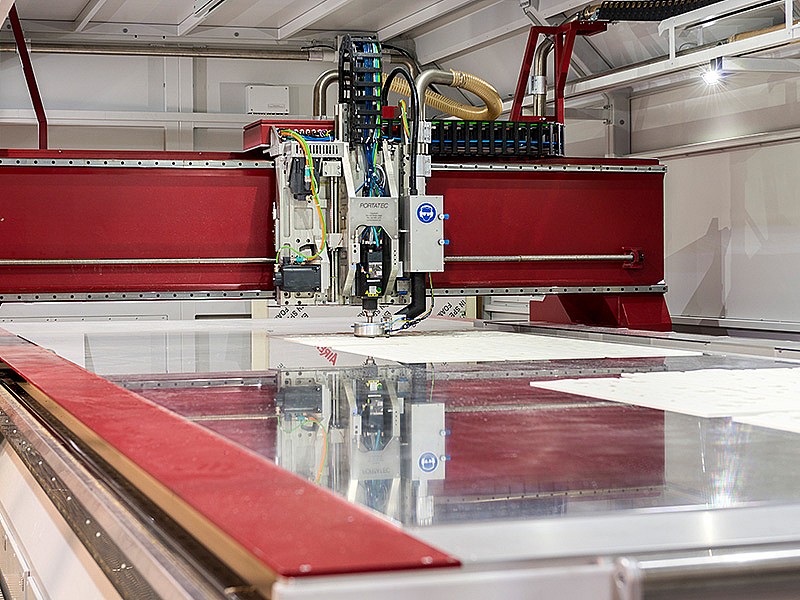 Portal milling in climate-controlled room
To guarantee continuous high quality, one of our machines (the Portatec) is located in a special climate-controlled room, so that the processing conditions remain constant during milling. This is essential when working to precise specifications, especially when processing foam materials sensitive to moisture and temperature.
Portal milling: efficient and sustainable
Computerised portal milling is cost efficient and more accurate than conventional techniques. We can produce a series of small parts from large sheets without a human operator.
To prevent product contamination, we lubricate the milling head with a special liquid which continuously moves above the material. That way, we prevent grease stains on the final products.
Want to know more about the possibilities of portal milling?
Do you have any questions about the possibilities of portal milling, the various machining techniques, or perhaps a specific type of plastic processing in mind? Our team of experts would be happy to help you. Please contact us for more information.