PEEK Plastic (polyetheretherketone)
PEEK plastic, also called polyether ether ketone, has grown enormously in popularity in recent years due to its versatility in applications. PEEK plastics meet higher requirements than standard or technical plastics and can therefore be considered high performance plastics.
This compact, sturdy type of plastic can be machined with high accuracy, resulting in beautiful, smooth surfaces. PEEK is ideally suited as a material for various applications with high quality requirements.
PEEK: a short description
Polyether ether ketone, also called PEEK, has a very high, long-term use temperature (approx. 280 ° C). The plastic is stiff, strong and has an extremely good tensile and bending strength under varying loads.

In addition, PEEK has very good dimensional stability at high temperatures and the material is resistant to chemicals. PEEK is also resistant to high-energy radiation and is self-extinguishing according to UL94. The application of PEEK is very diverse. Think of semiconductor, medical, aerospace, research, etc.

Due to the unique properties of PEEK, these high performance plastics often serve as a replacement for metal components, partly because it is lighter and no corrosion occurs.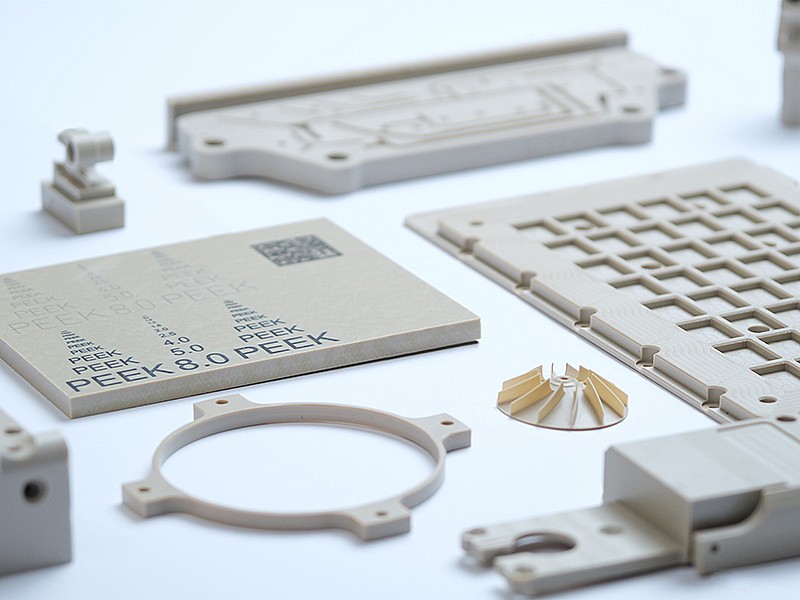 PEEK plastic properties
Characteristic of PEEK is that this type of high performance plastic can deliver excellent performance under extreme conditions. Due to the unique properties of PEEK, these high performance plastics often serve as substitutes for metal components. This is because they are lighter in weight and non-corrosive, among other things. The plastic type PEEK (polyether ether ketone) has the following technical properties:
Very strong, durable material
Extremely good tensile and flexural strength with varying loads
Low friction coefficient
Good dimensional stability at high temperatures up to 300°C
Excellent chemical resistance
Excellent hydrolysis resistance
Resistant to energy-rich radiation
Self-extinguishing in accordance with UL94
Low smoke and gas emissions
Sterilisable
Density of 1.32 g/cm³
PEEK plastic applications
Applications of PEEK are highly diverse, and it is often used for solutions in the fields of semicon, medical, aviation, aerospace, research, etc.
PEEK is highly suitable as a material for components within vacuum environments, as is usual in the semicon industry. The danger of fumigation is low with this type of plastic, which means low levels of particle contamination. BKB Precision has extensive experience in the realisation of complex PEEK plastic applications, including:
PEEK manifolds
PEEK 'Wafer' equipment
PEEK plastic tank components
PEEK micro-electronics
PEEK lathe components
PEEK claw plates
PEEK pipes and fittings
PEEK lined tanks
PEEK circuit boards
PEEK components for filter and distribution equipment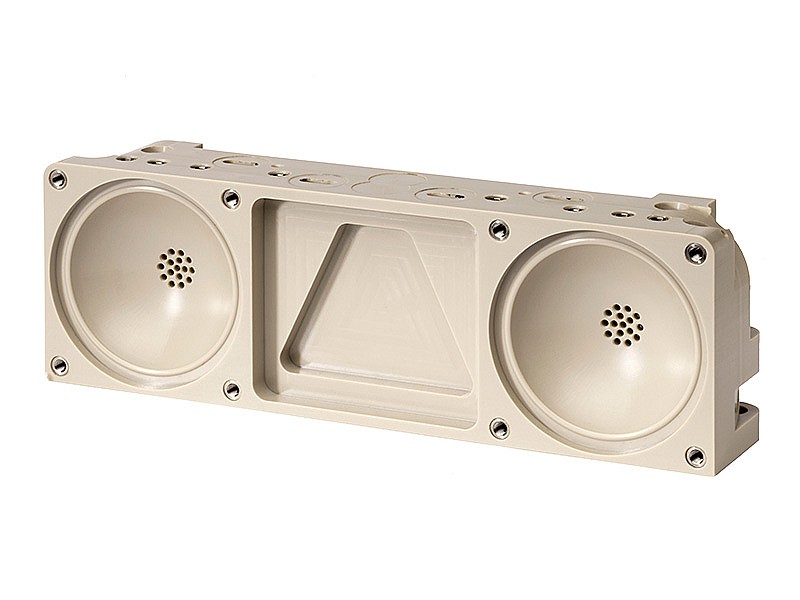 Years of experience
In recent years, BKB Precision has developed strongly in the field of PEEK plastic processing. For the processing of PEEK plastic, we use the most modern CNC machining and milling techniques, including 5-axis simultaneous plastic machining.
We aim to take care of all our customers' concerns as completely as possible, from design process to end product. We can, for example, have PEEK prototypes produced on request in our advanced machine park.
Other types of plastics
As an expert in the field of plastic processing and equipped with first-class and state-of-the-art machinery, BKB manufactures various plastic parts with exceptional precision. In addition to the plastic PEEK, BKB also has expertise in processing other high-performance plastic types:
Do you want to know more about PEEK plastic processing at BKB Precision?
Contact us without obligation and we'll be happy to inform you of all the possibilities PEEK plastic for your product. Use the contact form or call us on +31 (0)40 267 01 01. We'd be delighted to share with you our passion and expertise for precision plastics processing.