Our passion
BKB Precision stands for high-quality plastic processing. This is reflected in everything we do and determines the direction of our business. Recently, we expressed our passion as a word cloud. We would like to share this with you, so that you become as enthusiastic about plastic processing as we are.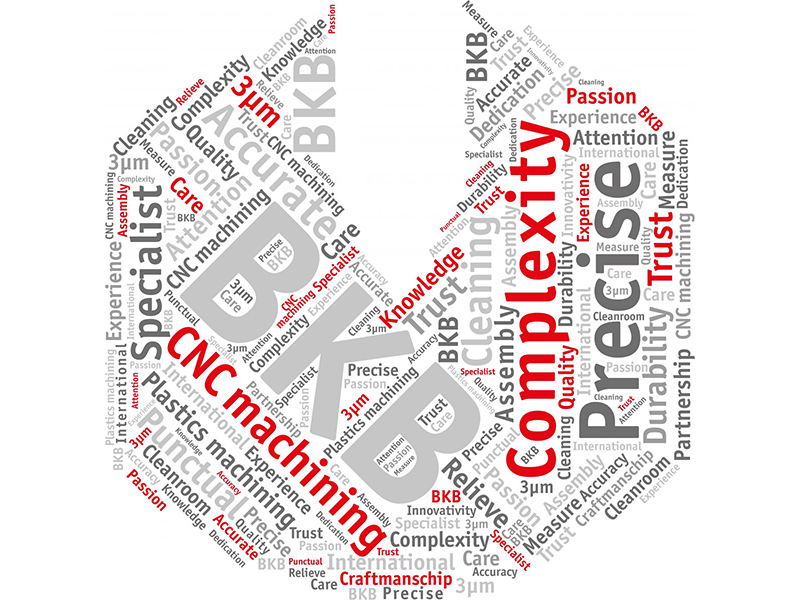 Our ambition
As this visual shows, BKB Precision has an ambition: we want to be the plastic processor for the high-tech industry. We know that this will demand a lot from us. We have set out what we need to achieve when it comes to our levels of craftsmanship, as well as our working relationships with customers and colleagues. That being said, we know what perseverance means, we like to take on complex challenges, and we are honest about what we can and cannot do.
In addition, we pay close attention to the possibilities that technical advancements might offer[MP1] [IS2] , share our knowledge with others, and celebrate when we successfully complete an assignment. Complex products challenge and motivate us. No goals, no glory!
Whether it's milling or turning, assembly or cleaning … BKB Precision is your plastic processor for the high-tech industry.
Out-of-the-box thinking
We go through the creative process together with our customers and the great variety of challenging projects that come our way gives us plenty of inspiration. Want to push boundaries? Do something you've never done? At BKB Precision, we practice out-of-the-box thinking, which leads us to new solutions!
'We think in possibilities. That creates new opportunities every time. We are dedicated and enthusiastic, which is why we can make the complex products that satisfy your wishes and requirements.'