Plastic manifolds
Manifolds, also called control blocks or block valves, are used in all kind of industries. Their main purpose is to combine and route gasses and fluids of all kind within one piece of material.
Manifolds are frequently applied when multiple channels are needed to establish an integrated design. Many advantages over conventional techniques for transporting gases and fluids within a machine or process persist. Depending on the application one can opt for a plastic manifold as well.
But what are plastic manifolds, when are they designed in plastics, and how are they manufactured?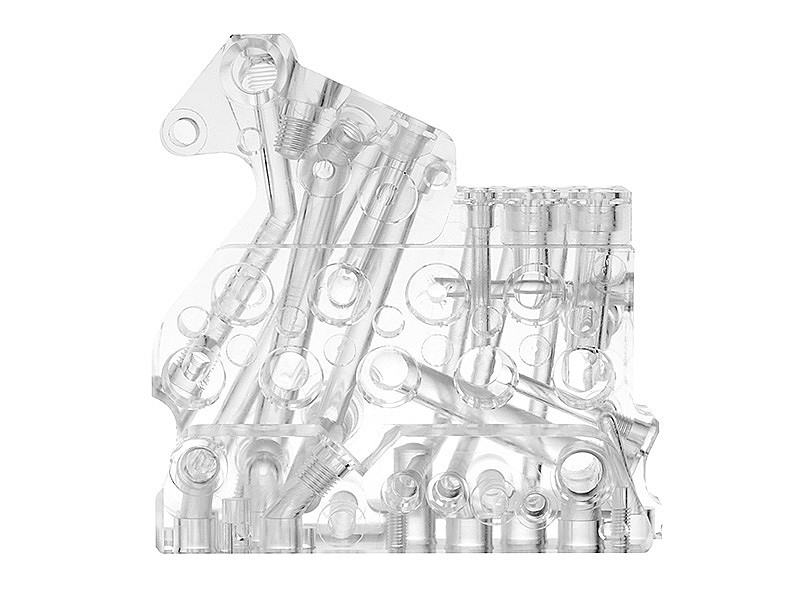 Why choose a manifold made of plastic?
A manifold is a product with several branches or pipes. When you choose to have such a product made from high-quality plastic, you not only invest in a future-proof solution, but also benefit from lower cost, more freedom of design and very high chemical resistance.
These parts require a high degree of precision, which is why our specialists are on hand to offer you their expert assistance. Satisfying your requirements is our priority. BKB Precision will discuss the many possibilities open to you and help you determine the feasibility of your plastic manifold(s). In addition, you can be assured of the highest quality and craftsmanship.
At BKB Precision, we work with a variety of plastics when manufacturing your manifolds, including high performance and technical plastics. Each type of plastic has its own specific properties.
We would like to share our knowledge of these properties with you so that we can determine which plastic is the right one for your manifolds.
Manifolds made of different types of plastic
We can work with various plastics when manufacturing your manifolds, including high-performance plastics and engineering plastics which have their own specific properties.
BKB Precision will be happy to help you choose the right plastic for your manifolds. Our priority is to fulfil your requirements and you can be assured of work of the highest quality and craftsmanship.
Manifolds made of high-performance plastics
High-performance plastics are ideal for manifolds. Materials like PEEK, PEI, PSU and PTFE (Teflon) are excellent alternatives for components usually made with metal. The advantages vary from plastic to plastic: from a low own weight so that dynamic systems perform better to good mechanical properties, and from resistance to a wide temperature range to low levels of outgassing.
Cleaning and assembly
Within industries like the semiconductor and medical industry, we see a tendency to use assembled manifolds for cleanroom applications. Assembling such manifolds is a service we can offer in-house.
Our specialists in the Assembly department can make your manifold according to your specifications, including its assembly, welding, gluing and polishing. We can also clean and package your products.
Manifolds made of engineering plastics
In addition to high-performance plastics, it is also possible to make manifolds from engineering plastics. These are often an effective, versatile alternative to other materials. The following engineering plastics can be easily processed into a manifold: POM, Polycarbonate, PMMA, PET and PP.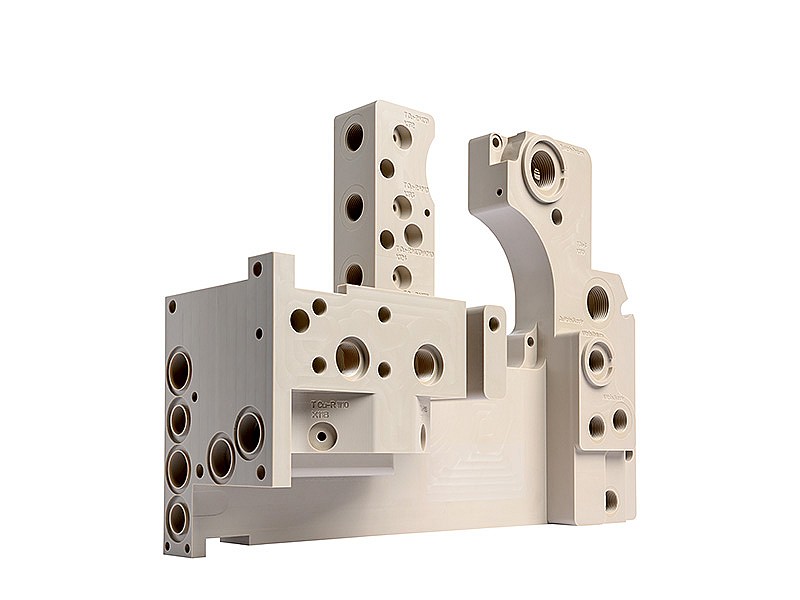 Advantages of plastic manifolds
BKB Precision specialises in making plastic manifolds/valve blocks. And there are plenty of possibilities when it comes to making high-quality plastic valve blocks. Plastic manifolds have many advantages over those made of other materials. Here are the most important:
Plastic valve blocks have an integrated design and are therefore more compact than a product made up of separate components;
Manifolds are a cost-effective solution compared to hoses and couplings;
Plastic manifolds are lighter in weight than those made of steel or aluminium, which is particularly advantageous for highly dynamic applications;
Plastic manifolds have relatively large, constant flow openings, resulting in higher flow rates;
Good chemical resistance is possible;
You have more freedom when designing the form.
Manufacturing plastic manifolds: our way of working
The manufacturing industry places high demands on products. Elements such as precision, quality and cost price play important roles.
Thanks to our years of experience and involvement, we can guide our customers from the design process to the delivery of a manufacturable product at the right cost price.
We are happy to work together with you on deciding which plastic, which design, and which processing methods are the right ones for your manifolds.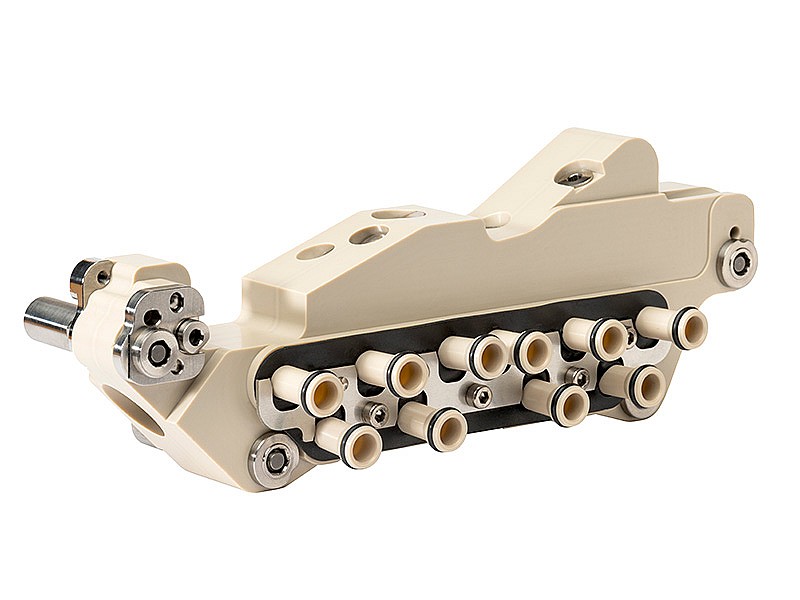 Do you want to have plastic manifolds made?
BKB Precision is the specialist who can come up with the right customised solution for you. Simply use the contact form or call us on +31 (0)40 267 01 01 for more information.