2020 | What is thermoplastic? Examples and applications of thermoplastics
There are many different types of plastic. We can roughly subdivide all these different plastics into thermoplastics, thermosets and elastomers. Each has their own specific properties, making them more or less suitable for certain applications.
As BKB Precision is the specialist in the processing of thermoplastics, we would like to take a closer look into the specific types and characteristics of thermoplastics. This is especially because developments in plastic materials are not standing still, and this leads to interesting new application possibilities.
What are thermoplastics?
Thermoplastic is known for its flexible, pliable properties. This is due to the molecular structure of the material.
Thermoplastics consist of a long series of molecules, also called polymers. In their solid form, these chains of molecules lie against each other. However, when the polymers are heated, they become agitated and slide past each other, making the material pliable or even fluid.
A thermoplastic can therefore be easily bent or moulded into any desired shape. This makes the material highly suitable for injection moulding, although most thermoplastic materials are also available in sheet or semi-finished products.
Moreover, because thermoplastic can be reheated for short periods several times, it can be easily recycled and is therefore a type of sustainable plastic.
Thermoplastics can be subdivided into clear groups. This is also known as the 'thermoplastic pyramid' and is shown in figure 1. The triangle shows three layers, from bottom to top: standard plastics, technical plastics, and high-performance plastics.
Plastic PET bottles, packaging film and PVC tubes are well-known examples of thermoplastics. But many thermoplastics can also be used for industrial applications. POM is a frequently used material for mechanical applications. It is very good in the average range of properties, which makes it highly versatile.
However, nowadays PEEK plastic (polyether ether ketone) is increasingly used for many high-performance applications.
Thermoplastic application possibilities
PEEK plastics adhere to higher requirements than standard or technical plastics and can be machined very accurately, resulting in beautiful, high-quality parts with smooth surfaces. The technical properties of this type of thermoplastic include:
Very strong and durable material
Extremely good tensile and flexible strength with varying loads
Low friction coefficient
Good dimensional stability at high temperatures of up to 300°C
Excellent chemical resistance
Excellent hydraulic resistance
Resistant to energy-rich radiation
Self-extinguishing, according to UL94
Low smoke and gas emissions
Sterilisable
Density of 1.32 g/cm³
As a result, this material is frequently used in the semiconductor, medical and pharmaceutical industries.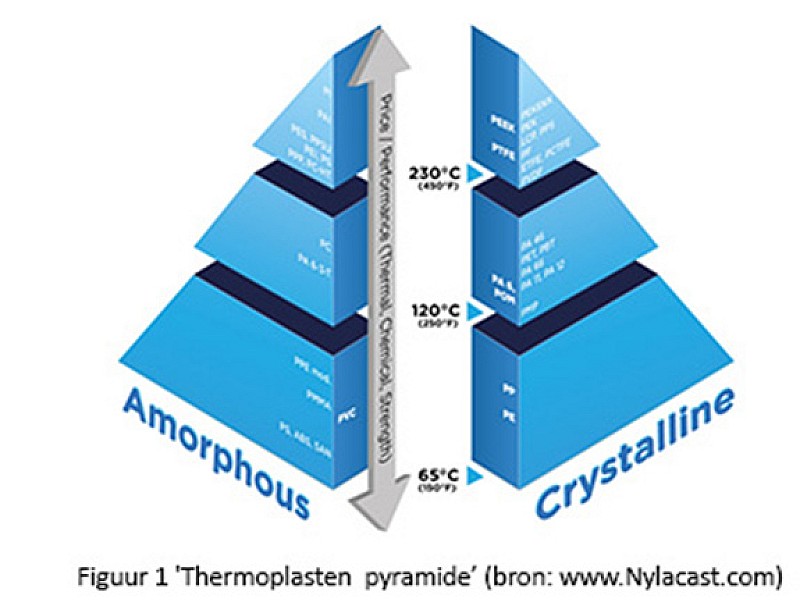 Types of thermoplastics
Thermoplastics can be subdivided into clear groups. This is also known as the 'thermoplastic pyramid' and is shown in figure 1. The triangle shows three layers: standard plastics, technical plastics, and high-performance plastics – these are at the top. As you can see, there are several differences within the groups of thermoplastics in terms of properties and application possibilities.
For example, some thermoplastics are highly suitable as material for the food industry because they meet specific requirements in the field of food safety. Other thermoplastics, such as PI (polyimide), have a high melting point and possess an intrinsic purity. This type of plastic is frequently used for high purity applications in the semicon and aerospace industries, and in primary research (CERN).
High-quality, high-performance thermoplastics can also be of great value in the chemical industry, including PPS and PTFE (Teflon). These thermoplastics are highly resistant to chemicals, acids and alkalis. PPS can also be found as components in braking systems, cooling systems, seals, and insulation applications.
Figure 1 'Thermoplastics pyramid' (source: www.Nylacast.com)
Processing high-performance plastics such as thermoplastics
At BKB Precision, we have years of experience in the processing of high-performance plastics, including thermoplastics. When processing thermoplastics, we use state-of-the-art CNC machining and milling techniques, including 5-axis simultaneous milling.
Thanks to those years of experience, you can be confident that we will take care of the entire process from start to finish. We can provide you with extensive information and advice on what is and isn't possible with the thermoplastic you require – all with one eye on the (product) specifications.
Would you like to know more about thermoplastics and machining of these kind of plastics??
Do you have questions about which thermoplastic will be the most suitable for your application? Then ask our specialists. With their extensive knowledge, they can be your sparring partner at the highest level, more than happy to think with you.