2020 | Digitalization on the work floor: BKB Precision takes it on
How we deal with digitalization
BKB Precision has been involved in plastics processing for almost 40 years. We work closely with partners in the semicondutor, defence and medical sectors, among others. These are important industries which often use custom-made high-performance plastic products. Continuous innovation and high-end solutions are therefore of vital importance in plastics processing. That is why we closely follow developments in the field of digitalization. In this article, we explain how we make increasing digitalization work for us.
From factory to Smart Factory
Optimizing our services by responding to new developments and opportunities – that is what BKB Precision is good at. That's why we joined the digitalization movement early on. The Internet of Things & Services makes it possible for our business to switch faster, produce more efficiently and communicate more directly.
Through our network and expertise, we can access an enormous amount of important data on production processes. We can then use that data to optimize production, both internally on the work floor and externally for chain partners.
At BKB Precision, we take on this challenge in many ways – using our G-Loader10 cobot, for example, which we can flexibly scale from the making of a prototype to a whole series production. In other words, it's becoming easier and easier to provide exactly the kind of service our customers are looking for, such as with just-in-time delivery.
Digital connections
Digitalization is not only about collecting, but also connecting. Getting the right information to the right place, so that between supplier and buyer the process can be streamlined and standardized throughout the product life cycle. At BKB Precision, we do everything possible to facilitate this process for you.
This makes it faster and simpler for us to adjust orders and manufacture unique products, to give just two examples. Thanks to digitalization, we can not only communicate more directly in the workplace, but also learning becomes easier. For some time now, we have been using tablets on the work floor, which means that the people behind the machines can collect work orders digitally.
In the near future, we hope to take that to the next level by making 3D files immediately visible with associated information (Product Manufacturing Information), also called Model Based Definition. This means processes could be easily standardized, including processes which incorporate custom elements. A faster and cheaper production process would be the result.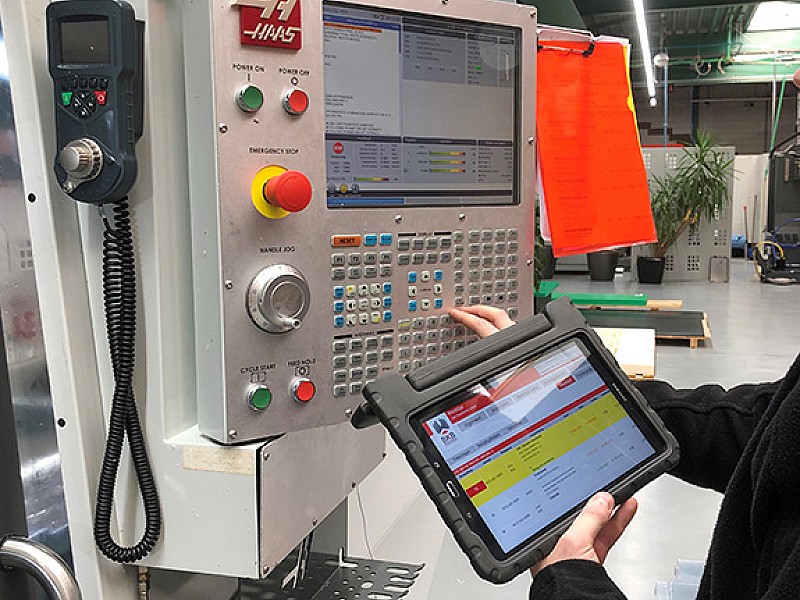 Offer customers better service through collaboration platforms
Complete digital connectivity truly fulfils its potential when working with collaboration platforms or Supply Chain Collaboration Platforms. By using these channels, suppliers, buyers and manufacturers can easily link up with each other and monitor the production process. We can facilitate this kind of collaboration for you using existing Collaboration Platforms or through creating new collaboration links. That way, you too can enjoy the benefits of the digitalization within our company. We also make frequent use of customer portals for orders and requests.
BKB Precision is your partner for (specialist) customization in the field of plastics processing. Please feel free to contact us and discover how we can make our digitalization work for you and deliver your order efficiently and quickly.