2019 | BKB Precision present at Semicon China, March 2019
For the 7th year in a row, Semicon China is the largest, most important trade fair for the semiconductor industry in Asia. This year's exhibition takes place from 20-22 March at the Shanghai New International Expo Center in China.
An exciting edition given the tensions between China and America due to the trade barriers. What impact do disrupted relationships have on the semicon industry? Is this situation a threat or does it offer opportunities for the European manufacturing industry?
Particpation Holland High Tech Pavilion
This year, the Business Cluster Seminconductors will once again represent the Dutch market, in collaboration with top sector HTSM, the Dutch consulate in Shanghai and HighTechNL. BKB Precision will also take part at the Holland High Tech Pavilion. We have our own spot in the pavilion – stand number 2665 – where we can show the industry the possibilities of high-quality plastics machining.
Big interest in PEEK
Semicon China is a perfect opportunity for BKB Precision to position itself as a plastics specialist for the high-tech industry. PEEK especially offers possibilities which often attract a lot of interest from engineers responsible for applications used within the semicon, both front-end and back-end.
PEEK behaves very well within a vacuum environment and can be processed with great accuracy. The fact that BKB Precision specializes in the milling of manifolds has not escaped China's notice.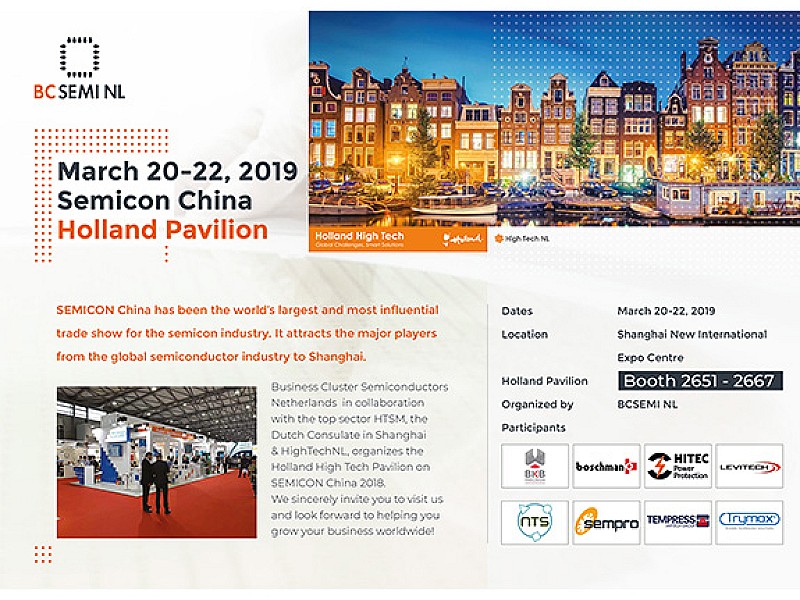 Interesting show for foreign companies
There are many decision-makers from the global semicon industry present at Semicon China. In addition, China is also increasingly open to the import of products from foreign companies. This is interesting for companies such as BKB Precision because it offers opportunities for international cooperation(s) and growth in the international chain within the manufacturing industry.
The high interest shown in our processing possibilities during last year's edition led us to conclude that we would be happy to be present for the third year in a row", says Mannes Westhuis, Director.