2019 | BKB Precision expands machine park with new HAAS VF-11 CNC milling machine
'In recent years, it has become increasingly common for customers to demand precise and complex processes on larger and longer products. We also see this at BKB Precision: there is a greater demand for flexibility in terms of processing options. Therefore, it is important to have the right machines in-house,' says Mannes Westhuis, Director/Owner. To better meet this customer demand, the machine park has been expanded with a new CNC milling machine.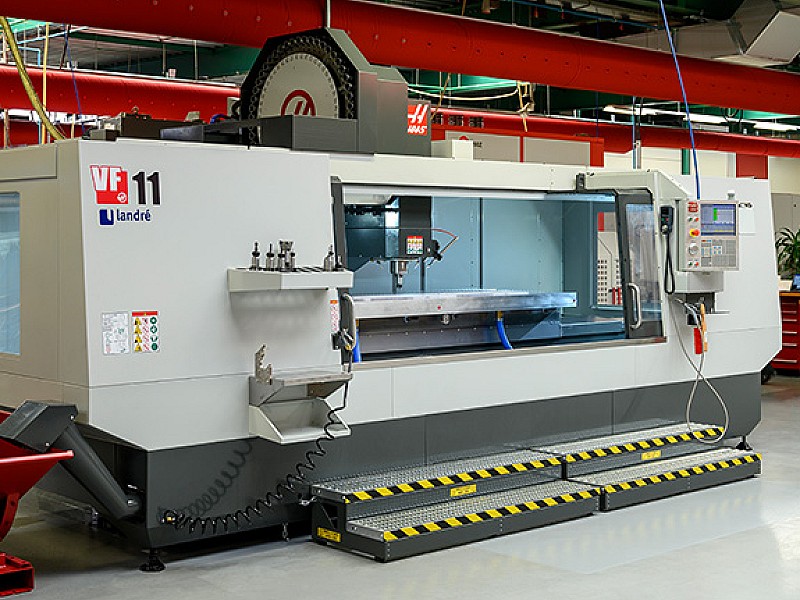 HAAS VF11 CNC milling machine
According to Wilfred van de Weerd, Production Engineer, the decision was made for the HAAS VF-11 CNC milling machine. 'With a larger range on the X (3048 mm), Y (1016 mm) and Z (762 mm) axes, we can now machine thicker and larger sheet material at high speed,' says Wilfred van de Weerd, Production Engineer.
"Linear scales with a resolution of 1 micron on the X-Y-Z axes ensure extreme accuracy; often an important requirement in the precision work that we perform for our customers."
"The machine is particularly suitable for 2.5D contour and profile milling and has a tool warehouse of 50 tools. Buying the VF-11 conforms to our policy of diversifying the machine park so we can machine the right product type on the right machine."
Programmable vacuum table
The HAAS VF-11 will be fitted with a unique self-developed, custom-made programmable vacuum table with fully integrated vacuum detection and moisture separation systems. These ensure that the machine is automatically stopped in the event of a leak.
Programmable coolant supply
The VF-11 also has a programmable cooling system with 34 positions: a multi-position nozzle which directs the supply of coolant precisely to the cutting tool and ultimately ensures effective chip removal for smooth surfaces.
Remote monitoring
In addition, the VF-11 has the HAASCONNECT: a tool for remote monitoring of the machine. The machine park within BKB Precision runs 24/7, so this is ideal for keeping up to speed with the machine's operating status.
Another powerful tool is the Media Viewer. Images, videos, tool lists, CAD images and PDF files can now be easily accessed in this viewer. The benefit of this instrument is that it ensures easy communication between millers and programmers directly from the HAAS CNC milling machine controls.
Integrated wireless measurement system
The HAAS VF-11 has an integrated Renishaw wireless measurement system. Thanks to simple user-friendly templates, setting tools and zero-points for the product to be processed is now easier, faster and more accurate, plus it saves time and money. 'This means we can further increase the capacity of unmanned hours and use our machines profitably and efficiently,' says Van de Weerd.
Good value for money and user experience
Our decision to once more choose a HAAS machine is largely based on our experience over the past year with the other HAAS machines. With the HAAS VF-11, we have brought in a good milling machine to meet the specific length requirements of our customers. Requirements/requests which we see more and more customers ask for.
In addition, the machine has a high-quality appearance, but price-quality ratio and ease of use also played a role in our decision to opt for this specific machine. The VF-11 offers us new possibilities for high-quality plastics processing, certainly with regard to longer products, and in this we can certainly add value to our customers and the market.'
Landré Machines, supplier of HAAS machines in the Netherlands, is known as a specialist in CNC production technologies for the manufacturing industry and have an extensive delivery programme for production systems for sheet metal processing, machining and tools. W

e were satisfied with the previous HAAS DT-1 and VF3SSYT milling machines", says Mannes Westhuis, Director.