2019 | BKB expands its latest HAAS DT-1 machine with the G Loader 10 cobot
Shortly after expanding the machinery with a HAAS DT-1, we took the next step in the rationalization of the production process. We have combined the DT-1 with a Gibas cobot, namely the G-Loader 10 cobot. Curious as to how it works? See it here.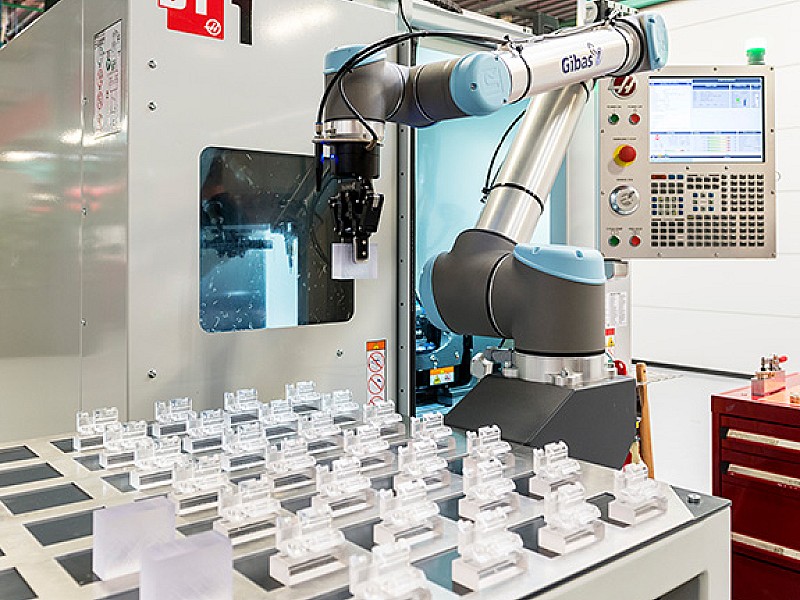 A great concept
Within BKB Precision, the G-Loader 10 is used as a cobot in combination with the HAAS DT-1 milling machine. Ideal for boosting efficiency between man and machine in the production environment. In addition, the cobot offers many other assembly and handling options, and it can also be applied to small series.
The cobot is small in size, low in energy consumption and simple to operate by using a graphic interface on a touch screen. This means we can achieve short set-up and conversion times.
The Gibas G-Loader 10 is a safe, stable solution and a great addition to our state-of-the-art machinery.
A safe, strong solution
The fact that there is a cobot next to the HAAS DT-1 milling machine means that repetitive work previously performed by personnel can now be taken over. Lex Moolenaar is enthusiastic:
'ncreasing my knowledge has been a great experience for me. It gave me the opportunity to learn how to programme the G-Loader 10 cobot so the machine can continue precision work, even when I'm not there."